When we look up a company or leader on a search engine such as Google, the search engine results page (SERP) provides a snapshot of their history, their financial standing, their market reputation, and perhaps even their future. It gives an at-a-glance view of why a CEO has the job, providing employees and investors with information on their background, their public profile, their current business focus, their media profile, and issues they have been involved in. It serves as a composite view of their reputation – a digital CV.
The importance of search engine resilience
Search engines – notably (but not exclusively) Google – are often the first port of call for research by journalists, investors, and the public. And the way that Google ranks content on its search page is constantly evolving. In the past ten years there have been at least 75 major updates to Google's search engine algorithm, as well as multiple daily tweaks.
Many companies and CEOs fail to monitor these changes or take an active interest in finding out which content is served by search engines on the all-important first two SERPs when people seek information about them. However, by monitoring the way Google changes its algorithm, and adjusting their own online content and activity accordingly, companies and CEOs can proactively manage their search engine profile and see positive changes to their reputation.
How the FTSE 100 rank for search engine resilience
In new research from Digitalis, we used a specialised system to track the search engine profiles of FTSE 100 company names and those of their prominent CEOs. We looked at different sets of keywords that a person might type into a search engine's search bar when seeking information on a particular company or CEO. Using a tailored algorithm, our research identifies how vulnerable those companies and CEOs are to new content appearing in a prominent position on SERPs when people conduct an online search for information related to them. As a result, we were able to calculate how resilient a search term, or set of keywords, is against new, negative, or unbalanced digital narratives that might cause reputational harm.
Our researchers used a scoring system to rank each company or CEO's search engine resilience. Higher scores indicate fewer possibilities for new (and potentially harmful) content to rank on page one of a search engine's results when particular search terms were used.
We assessed each company or CEO's search profile against four criteria:
Popularity: Primarily a measure of links and mentions of the web pages (URLs) that currently rank on the first page of search results.
Authority: An assessment of the overall strength of the ranking URLs in broader terms, identifying which websites most commonly appear for related terms.
Relevance: An assessment of the many factors the search engine uses to determine how 'optimised' a URL is for the given keyword.
Vulnerabilities.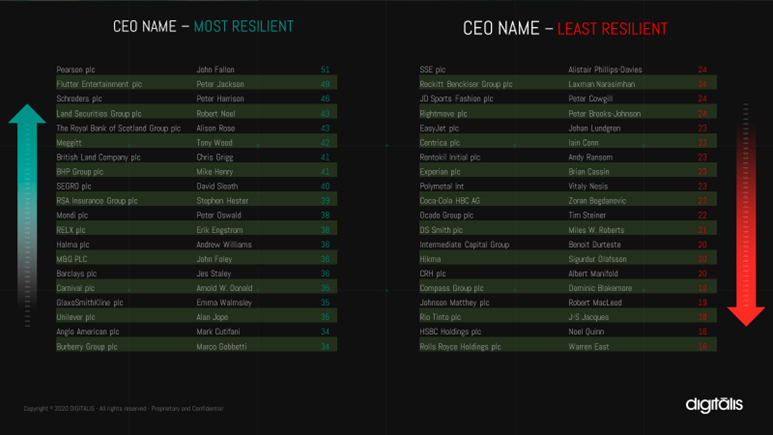 The results were not predictable. Researchers expected consumer brands, with their huge investment in digital and communications, to be more resilient than less high-profile industrial brands. This proved not always to be the case. Among the FTSEs, EasyJet's search engine results ranked amongst the least resilient at 44% – and EasyJet was found to be the most vulnerable company to external material appearing on a SERP.
Tesco, despite its public and political profile and the high level of media attention received by the grocery sector, scored the highest for search engine resilience at 96%. And BP, although frequently the focus of activist groups, similarly ranked in the top 10%, alongside some less high-profile industrial companies such as Meggitt.
The results point to a conclusion that regardless of the nature of a particular company or how high-profile it is, it can effectively use strategic digital narrative management, including asset creation and optimisation, to build search engine resilience.
The picture for FTSE CEOs was markedly different. In most cases, the digital profile of CEOs was vulnerable to external, hostile, or irrelevant content shaping their personal narrative. Resilience scores among CEOs ranged from a low of 16% to a high of just 51%. The prediction that longer-serving CEOs would have developed a more resilient online profile than newcomers proved not always to be the case. With CEOs increasingly under media, investor, employee, and customer focus for the decisions they make, the things they say and the money they earn, their online profiles are assuming an ever-greater importance. Our results indicate that few are currently managing their online profile, or maximising their online resilience, effectively.
Search engine resilience is a key measure of how companies and individuals can defend their online reputation against attack in an increasingly febrile digital age characterised by hostile social media activity, anonymised attacks, and disinformation. Digitalis works with clients to improve their search engine resilience, advising how they can take ownership of their SERPs to deny space on those pages to detractors, hostile commentators and the growing threat of disinformation.